home
Teaching Evaluations of Dr. Spevak
<![if !vml]>

<![endif]><![if !vml]>
<![endif]><![if !vml]>

<![endif]>These are posted in an attempt to present a balanced view of teaching effectiveness.Internet rating sites like Rate My Professors.com give anecdotal reports rather than polling a large number of students. Any scientist knows that the larger the sample size, the better. Below are evaluations and comments from a variety of courses, written and tabulated. All can be verified as authentic. Hopefully, they will give an accurate overall view of teaching performance.

Recent ESU evaluations click on link or scroll to bottom
<![if !vml]>

<![endif]>Written Comments -click on link
<![if !vml]>

<![endif]>

<![if !vml]>

<![endif]><![if !vml]>

<![endif]><![if !vml]>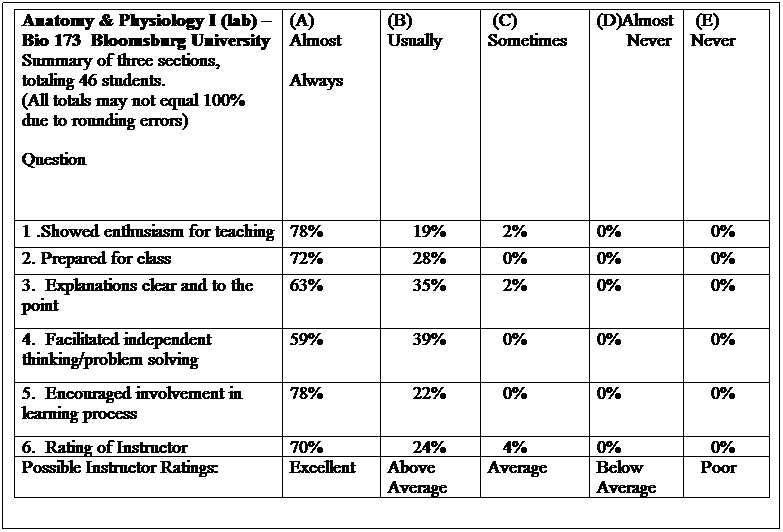 <![endif]>
<![if !vml]>

<![endif]>
Recent Evaluations from East Stroudsburg University.

At ESU, instructor ratings possible are 1 to 5, with 5 being the best.
The question rating overall instructor effectiveness is either #19 (most of those posted here)
or #10 ( recent questionnaires).


Summary
For the academic years 2009-2010 and 2010-2011 at ESU,
Dr.Spevak's ratings for all courses (A&P I and II, lecture and lab, Biology I and II lab, General Ecology lab, Human Ecology lecture, and Senior Seminar)
averaged 4 and above for most categories , including teacher effectiveness.

The detailed evaluations include one section of each course taught in a given semester.
Click on courses below to see evaluation results for that course.
Anatomy& Physiology II
Biology I and II lab
General Ecology lab
Human Ecology
Senior Seminar
Biology 105 (non-majors biology lecture)